I am feeling better this week, so I thought I'd tell you all about another Alaska story from this summer. Thanks to Momma for covering for me last week.
We took the chugga chugga train to a big big park. I was expecting slides, swings, climbing thingies…but it wasn't THAT kind of park. People really need to be clear. I saw BIG, HUGE mountains, trees and animals, but nothing to play on. It's some kind of natural or national park or something. Anyway, this park place with no swings or slides is where the tallest mountain around us lives.
After a fast breakfast, we rushed onto …wait for it…a stinkin' bus!!! A bus!!! AAAaaack. For the whole day, once again, I had to be strapped into a seat. A toddler. Strapped. All day. So NOT built for that. At least my big people took turns sitting next to me, reading to me, and, of course showing me things out the windows. Well…at least the big people who didn't have cameras stuck to their faces. Ehem. No names mentioned, but the names rhyme with "Bomma", "Waddy", and "Funckle Pim"…just to name a few.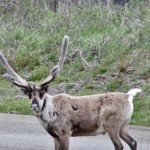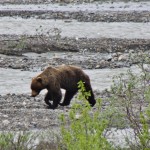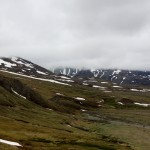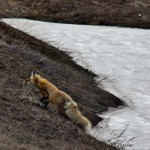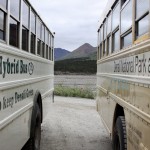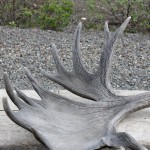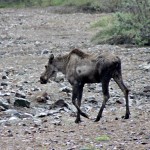 Anyway, I have to say that it was super cool to see all the outside stuff. I mean, we saw sheep way way way up on top of a mountain. I don't even know how they stayed there without falling down!! One little girl called them goats. Lyla called them "moos". Pfff…some kids *eye roll and mumble*.
Then we saw big deer that looked like reindeer or something like that. They came right up to the bus!! There was snow too. One time, right before we stopped to stretch, we saw a red fox in the snow. Sneaky foxes. And then…the coolest EVER…we saw bear! Not just one bear. Nope. We saw a Momma bear, her babies, a HUGE bear in the water and another bear walking on the side of the mountain. Picture a big smile here people. BIG SMILE. The Momma bear was close enough I could see her bear feet.   Wow. And the baby bears were so cuuuute! Even their bear feat were really big!
The day actually went pretty fast, even for being stuck on a bus. It was fun to see all those animals that we don't get to see at home.
Later, when we were getting ready for bed, Momma took off my socks and said I had bare feet! I looked from her to Daddy really fast- a little confused, "Whaat? I have bear feet?!!! That's silly!! Bear feet?!!"