It's no secret we end up going many places for Momma, and sometimes Daddy too, to take pictures.  I even take a few to show them how it's done.   They simply don't appreciate my angle, my lighting choices and the perfect amount of blur.  Whether or not I take better pictures really isn't the point.  I do.  But that's not the point.  But I do.  My point today is that we end up in many strange places and doing many strange things.
I never thought I'd be telling my friends at the diaper changing station about wearing Daddy or Momma and walking over burned wood and broken glass in abandoned buildings.  I bet THEIR Momma's faces were priceless when they took those stories home!!  Also, I've been in a ditch, on the side of a tunnel, straddling a fence and wandering through an old concrete plant, walking on all the machines still there.
I've been parked on the side of an old railroad track so Momma could run across the road and take girly pictures of poppies growing on the tracks.  I've jumped through mud and puddles for "work". I've chased chickens, smeared paint, and shared my toys with Momma…all for pictures.  I've been to more cemeteries than probably any other 2 year old I know.  That's just odd, and actually quite concerning.  Just ask Daddy.  I've been to the market, but not to buy food for eating.  Nope, just to bring the food home and take pictures of it.  I've walked across big bridges, under bridges, climbed huge hills and even some trees, just to take pictures of grass or peeling paint!  I've sat in corn fields and grape fields.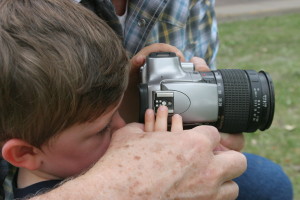 I've accompanied Momma on strange neighborhood walks that are slightly crazy as she takes pictures of every chimney or mailbox.  The looks we get there???!!!  Oh man. There are just some things I can't use my powers on to fix.  I've been on my back in the park to help Momma take a picture of a tree from below.  I've been on my back in sand to help Momma take a picture of a slide.  These ARE public places people.  I'll be shamed at school even before I start!!!   
Are you starting to get the picture???