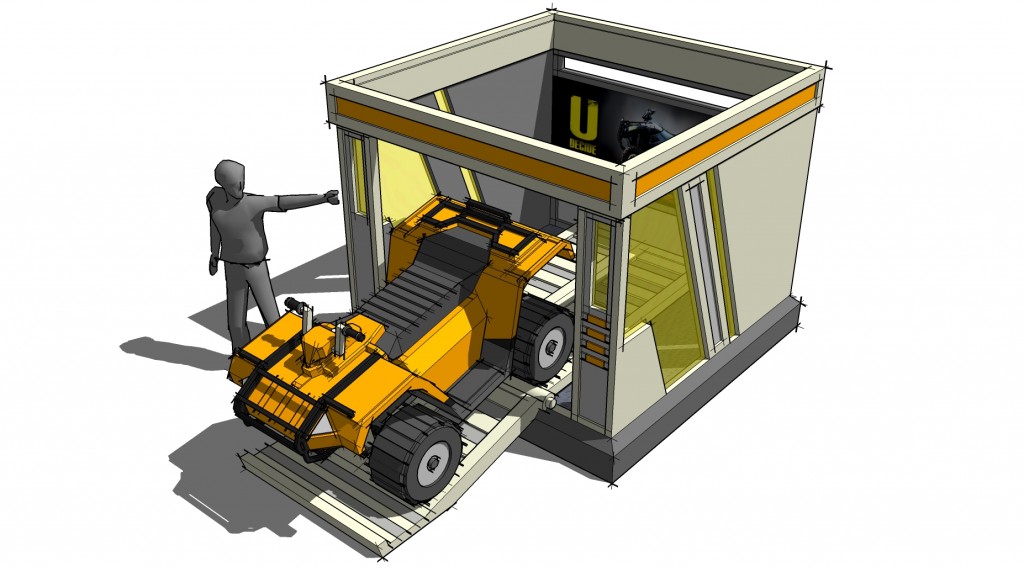 Let's start with this one.  There are many great design programs out there that are very good.  There is the "industry standard" for film and game development, 3D Studio Max or even Maya.  There is AutoCAD, the "industry standard" for architecture and also 3D design.  Then there are the rest of the programs which are too numerous to list in a blog like this, but suffice it to say that they all have advantages and disadvantages.
Then there is SketchUp.  Let me get one thing clear before I begin.  I do not have stock in SketchUp. I am not an employee or owner or tied in anyway to the company other than the fact that I have been a loyal customer for many years.
I began using the program back in 2004 when a designer friend of mine at Disney showed me the program.  My first impression was that it looked way too simple to be useful.  I played with it a bit and was not immediately impressed.  The hook was when I got a job as an art director on a video game and needed to use a 3D design program to work with the concepts (and try and get some credibility with the game artists who looked at my hand drawn designs with a bit of confusion as I mentioned pencils and paper…).  I had to dive into the program and learn it quickly.
And that was when I got hooked.
It was an incredibly intuitive program to use.  It's apparent simplicity was really its strength.  In a nutshell – the program allows you to focus on designing, not focus on learning a program.  That is the key.
Since then I have used SketchUp nearly daily for almost eight years.  I have not formally counted all of the drawings I have created in those eight years, but conservatively, I have created well over 10,000 pages of drawings on over 400 designs for TV, film, theater, live entertainment, game design, and many other areas of design. (I will add a link at some point so you can see some of those images).
So, I know at this point you have no reason to believe me, but take my word for it and give the program a chance.
Next we will talk about other reasons why the program is great…
Related articles