*Yawn*. Between the sun and Lyla, I'm so tootin' tired. Big bumpers and bananas! She does not sleep!! No sleep. None. She is a night monster, I just know it. The first couple nights of our adventure, I didn't mind. I thought I could find some place once we were on the ship to put her. But having to sleep- no, TRYING to sleep- in the same room with her is just mean. I have tried hiding her on the ship, but she walks pretty good now. Besides, someone always catches me and I have to act like it's a cute game we are playing.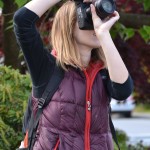 Anyway, we got off the ship and back on again today, with only a few tantrums. You can guess who had those. I saw big painted sticks! They go way up in the sky.  They are made from trees actually!  Well, most of them. People make faces in them, and cut out whales, birds, fish, bears and big bad wolves! And they paint them to tell stories or for people who aren't here.  I love stories! And I saw bald eagles in the trees. Those are birds. But they aren't REALLY bald. And I saw Momma, Papa, Daddy and Uncle Tim with their cameras!! Oh wait- that isn't exciting. No really- I saw that a lot. So much a lot. They bounce all over the place, kneeling, bending, climbing, leaning…always taking pictures. You spend a day around them, and you almost forget what they look like because the cameras are in front of their faces. Sheesh.
Every once in awhile, Momma just stops and watches. She doesn't talk, just watches everything. So I watch her. What is she thinking? Is she okay? Why isn't she moving? Does she know how to move? Then she leans down and tells me or Lyla to look at what she sees. She gets really excited about it, and asks if I am taking a picture with my mind to save. I say "yes" just to make her stop being silly. The only picture I want to take is of Lyla being put in another room tonight so I can sleep. Or of Lyla in a boat BEHIND our boat. Those pictures…those I would like to take. *Yawn*.
So far, Alaska is my favorite place…EVER.