BIG!!! HUGE!!! SUPER BIG!!! We're here! We're finally on the boat.
We had to wait forever though. Here's the deal…I just turned three. I'm still working on self-control. Time means nothing…wait means nothing…be patient means nothing. So, I decided that while waiting in the BIG line for the BIG boat, I'd be as loud (BIG loud) as possible hoping to get us there faster. Seemed like a plan to me. It didn't work. Instead, the angry eyes came out.   So I pretended I didn't have any bones and fell to the floor. This made more angry eyes come out. When Momma asked me to stand up and use my listening ears to teach Lyla like a good BIG brother…I decided to be a puppy instead.   I jumped to my knees and hands and loudly told her, "I'm not a BIG brother, I'm a puppy! Woof woof!" I've never seen BIGGER angry eyes!!   Someone needs to work on that…and I don't mean me.  
So where's Alaska? Is this Alaska? Are we there? Are we there??!!! I was so excited I couldn't even walk. I ran or jumped everywhere! Oh! Oh! The hall! It was so …so…BIG!! I could run and run and run and still not get to the end! And…and…and. Whew. It was exhausting and exciting at the same time. There HAD to be a place somewhere on this boat to hide Lyla!! Oooo…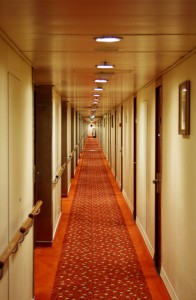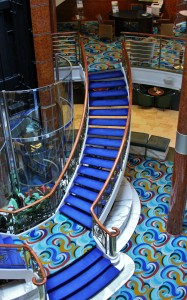 So really, is this Alaska? Momma said not yet. She said we had to sleep first- that the sun would go to bed, and so would we, but there was plenty to do while we waited for Alaska!! She said we could explore the big boat, find where the stairs go, ride the elevators, look for the swimming pools, find the play room, see how much watermelon and salami there was to eat, take pictures…AAANND… she lost me.
She HAD to bring that up?? I suppose she was going to have her camera a lot. Oh well. There was too much to do to be upset. It seems that Papa, Daddy and Uncle Tim had their cameras too. I thought Momma carried hers a lot?! You should see Uncle Tim!! It must make him feel better, like my lovey blanket does for me.
For the rest of the day we ran, jumped, ran some more, ate, jumped, screamed, laughed, ran, played Legos (yay Uncle Tim!), sang, used those cameras (sigh), ran, ate some more, laughed some more, more Legos, jumped, used those cameras…again (BIG sigh), and finally got ready to sleep. The sun was up for a long time, so I got to stay up too!! That part was my idea!!  When I wake up we will be in Alaska!!! Now…where I can I hide Lyla?