Ever since I was a baby, when the sky starts leaking a lot, we get to go outside and dance in the water.   I guess I was a baby the last time it leaked, 'cuz Momma and Daddy say it has been a long time.   Well, I was worried now that baby Lyla is here to stay that she'd ruin everything.   I worried that we wouldn't get to go outside this time because she cries so much about anything.  She cries when I take my toys away from her, when I try to sit on her, when the dogs bark, when you don't give her food fast enough, when I push her, and when you tell her 'no'.  Well, THIS time, I was wrong.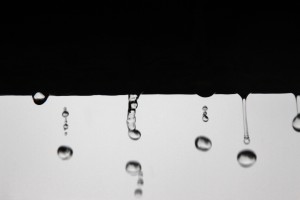 I was so wrong!  Not only did Lyla not cry, but when the water hit her face, she laughed and did a happy squirm!  I guess she's not THAT bad.   "Lyla like the watew!" I joyfully announced to Momma.  "Yes Nate, Lyla DOES like the rain! Actually she LOVES it, just like you!", she answered back.  That's right, I forgot.  This water is called rain!
So for a few minutes we danced and jumped and sang in the rain.   We smiled at the sky, at the rain, at each other.  I was so happy, I didn't even mind that the camera was along again.  (Actually, it seems stuck to Momma's hand.)  We laughed. We laughed so hard I had to pee…which made me dance funny.  Oh well, at least I looked like Momma then when she dances.  Hmmm…I wonder if she has to pee?  Anyway…
The BEST BEST part was finding puddles.  Now I'm not sure which one I like better: mud or puddles!   Both splash…both are gooky…both are fun!  Lyla actually made it all better.  She may not have mad skills like me yet, but she CAN splash and make a mess.  The more the messier, the merrier!   And so we smiled and laughed at each other all over again, singing and splashing and dancing. 
That night, after a massive clean-up effort, I fell asleep smiling about the day.  The puddles.  The mud.  The rain.  The happy faces.  The singing.   Best. Day. Ever.